What is it that drives people to harbour terrible secrets, give up on their dreams and even turn to murder?
Ava Blackwell's friends and family are burdened by lies and misunderstandings. If they all told the truth, their problems would disappear - but of course they don't. They're English! Politeness, embarrassment, shame and duty stop their mouths and ensure that their problems escalate, culminating in a melee of brawls, break downs and violence.
Ava's Wedding is a brand new original opera written by composer Michael Wolters (Deputy Head of Composition at Birmingham Conservatoire) and writer Alexandra Taylor. With music that borrows from five centuries of Englishness and a libretto that pays homage to soap opera, Ava's Wedding was written specifically with music education institutions in mind.
The large, predominantly female cast and carefully chosen orchestration give a wide number of performers the chance to showcase their talents. The range of musical styles gives both vocal and instrumental students the opportunity to explore new techniques. The domestic stories and English libretto mean that performers and audience can easily relate to the characters.
Selected arias and the quartet
Instrumentation
2 Piccolos
3 Flutes
Oboe
Clarinet
Bassoon
Saxophone Quartet
2 Trumpets
Tenor Horn (also available as French Horn)
Baritone Horn
2 Trombones
Tuba
3 Percussion
Harp
E-guitar
Piano
3 Solo Violins (amplified)
Solo Viola (amplified)
Solo Cello (amplified)
Solo Double Bass (amplified)
Bass Guitar (can be played by double bassist)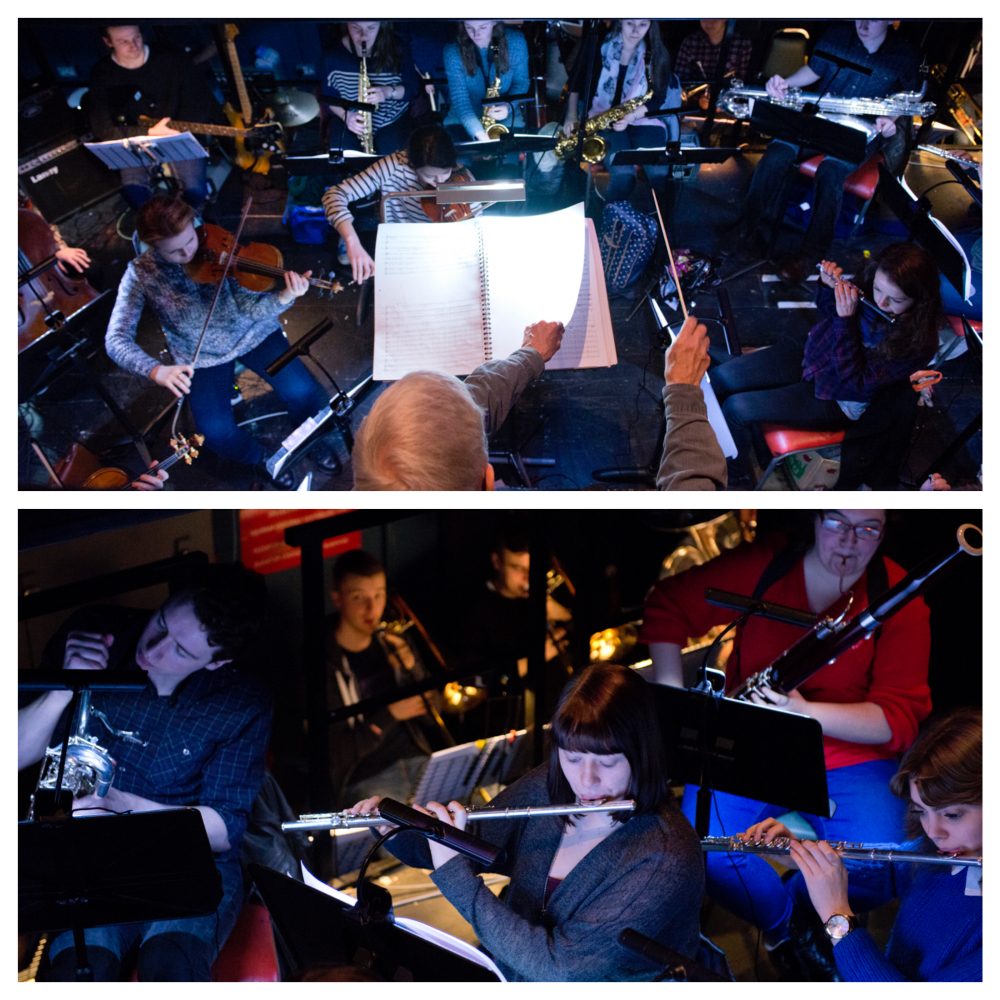 The World Premiere of Ava's Wedding – An English Tragedy
The world premiere of Ava's Wedding was performed from 26th to 28th February 2015 at the Crescent Theatre Birmingham by undergraduate and postgraduate students at Birmingham Conservatoire. It was conducted by Fraser Goulding and directed by Michael Barry.
The score does not specify when or where the opera should be set and, for this production, Michael Barry chose to set it in Britain in the 1980s. The roles were also entirely double cast in order to give 52 singers the opportunity to take part.
Fraser Goulding worked closely with Michael Wolters to tailor the piece to the specific requirements of the Conservatoire performers. As a result, the orchestra featured a french horn instead of a tenor horn, and Truth featured an extra voice in order to enable another two students to have roles in the production.
For future productions, Michael Wolters and Alexandra Taylor would be happy to work with production teams to adjust the score and libretto to suit specific performance requirements.
Ava's Wedding is now available for hire.
The score (transposed or in 'C'), instrumental parts and libretto are available in two formats, fully printed and bound or as digital downloads.
Please use the contact form on the right to enquire about prices for the two versions, or for more general enquiries about staging the opera.
The writing of the score and libretto were funded by Arts Council England and Birmingham City University.